Renamed in 2009, the Soroptimist Ruby Award for Women Helping Women acknowledges those who work to improve the status of women in society. We select from among worthy achievers in our community to recognize those whose efforts consistently help women reach their potential and who are outstanding role models for their peers.
Meet Our 2016 Awardee
Jackie Craig, Co-Founder – The Green Chair Project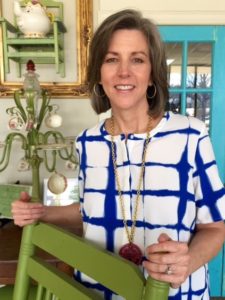 When you think of humanity helping humanity, Jackie Craig embodies this philosophy. Her warmth and generosity is a blessing to all whom have the pleasure of calling her a friend.
Jackie's genuine regard for the well-being of others is selfless. Her compassion for community is infectious. Wherever Jackie goes, she takes with her an inner light that illuminates and uplifts everyone around her. Through the work she does at The Green Chair Project, Jackie is doing exactly what she was born to do. Give hope, spread joy. Restore dignity.
What started out five years ago in a small church closet as a desire to get people with too much stuff to give it to people who needed a fresh start, has now grown into a successful non-profit company. A company that Jackie cheerfully pours her heart into everyday in an effort to help everyone understand the concept of reusing furnishings and renewing lives.
Jackie and her co-founder, Beth Smoot, had no idea that when they accepted their first donation, a green leather chair, what they had in fact started was bigger than a company. Together, they started a concept of community helping community . . . one couch at a time.
For more information about The Green Chair Project, see www.thegreenchair.org