This program recognizes young women between 14 and 17 who make the community and the world a better place through volunteer efforts. The Raleigh Club honors such a young woman each year with an award; she will now receive $750 and her selected non-profit organization will receive $250.
Application 
If you or someone you know qualifies for this award, apply!  You can apply to our club in two ways either as an online application or as a hard copy. 
The application for 2016 is now closed. The application period for the 2017 awards cycle is  from July 1, 2016-January 15, 2017.
Click HERE to download the VRA Application 
The online application should be forwarded to the Awards Chair –  email  vra@soroptimistraleigh.org.
Hard copy applications are available by contacting Soroptimist International of Raleigh at vra@soroptimistraleigh.org.
Learn More
Download the Violet Richardson Award information sheet to learn more about this award and the application process.
Meet Our 2016 Awardee
JESSICA PARZYGNAT
$750 Cash Award
$250 Donation to Brown Bag Ministry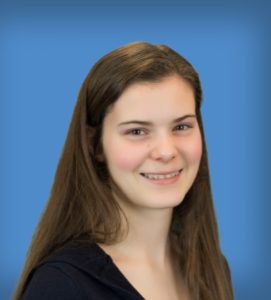 Jessica Parzygnat is a student at Middle Creek High School in Cary. She regularly volunteers with Brown Bag Ministry, a non-profit organization that makes 2,700 bag lunches each week and distributes them to the homeless.
When Jessica was young, her Y-Princess tribe volunteered at Brown Bag Ministry, distributing lunches to the homeless. "This was the first time my eyes were opened to how many people were actually poor and it disturbed me. The picture of handing out lunches to each homeless person is still vivid in my memory. This experience made me realize how important it is for me to volunteer at Brown Bag Ministry," Jessica explains.
Now she regularly participates in making the lunches to be distributed. Several stations are set up around the Fellowship Hall where everyone works and each time Jessica volunteers she chooses a different station to work.
Jessica shares, "I am proud to be a volunteer at Brown Bag Ministry. I may not be changing the world but I am changing the lives of individuals in my local community which gives me a heartwarming feeling. Taking out two hours of my weekend is so small yet it makes such a big difference. This ministry has taught me that it is important to do things for others who are in need because not everyone lives a life were food is always accessible."