Members and guests had a wonderful time at our November meeting! We welcomed a lovely pop-up booth by Designed for Joy. DFJ is an amazing local non-profit organization that provides vulnerable women with work experience and community.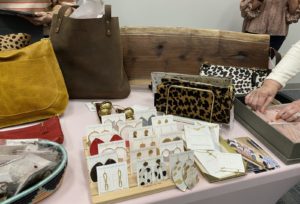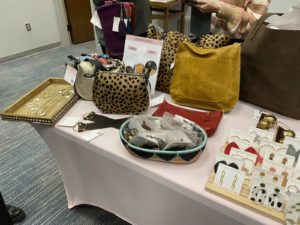 Many in attendance also got a head start on holiday shopping! Founder Cary Heise shared her abundant love for her organization. She shared the history and mission of DFJ and answered questions from our members. We encourage you to explore Designed for Joy online here.
We celebrated 35 years of the Raleigh chapter of Soroptimist International! President Betsy Miller read a letter full of fond memories from one of our founding members. Founding / current member Diane Cardamone posed with a delicious cake.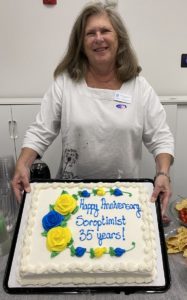 We have lots of exciting plans in store for the future! Through November 15th, Soroptimist Raleigh is accepting applications for our five Live your Dream grants. We are looking forward to Giving Tuesday, our Holiday Angels project, our Puzzlemania fundraiser in January, and plenty of other good work behind the scenes.
Finally, one of our favorite parts of our monthly meetings is "Happy Dollars". At the end of each meeting, members can donate a dollar to the chapter to share something happy or positive from their lives or the lives of their loved ones. It's a touching way to practice gratitude, to share our lives with each other, and it's a fun reminder to celebrate the many positives in our lives that are so easily taken for granted.
Interested in learning more about this amazing organization? Click here.