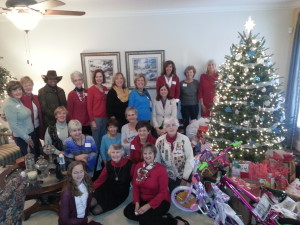 December 20, 2014  Raleigh Soroptimists are an impressive and generous group! Together, members provided  gifts worth a total of $1,800  for families supported by Salvation Army's Project FIGHT (Freeing Individuals Gripped by Human Trafficking).  Through this project The Salvation Army of Wake County provides case management for victims of human trafficking, and works to generate education and awareness about human trafficking in the community.

Representatives from Project FIGHT stated, " It's not only the gifts that make a difference, but the knowledge that someone cares."
The Salvation Army is deeply committed to the modern-day fight against human trafficking (for sexual and labor purposes) and forms of commercial sexual exploitation innately linked to sex trafficking. This commitment emerges from The Salvation Army's mission and is rooted in the organizations early history.   Soroptimist International of Raleigh, NC is pleased to support their efforts.